1. There is so much I'd like to say regarding the outcome of Tuesday's election. But I'm not. I'm grieving in my own way. I'm ashamed of America and ashamed that so many, personal friends and family included, voted for that horrid man. Who knew there was so much hatred and bigotry left in this country. I have three beautiful children that will not learn behavior like that at home. I was very saddened by the sheer number of small children, first, second, third graders, who loudly proclaimed they
hated
Hillary Clinton. Don't spout your evil to your children. Give them the chance to be decent human beings.
2. We took our girl scout group to a local polling center on election day. I really wanted them to be a part of the day a woman broke the glass ceiling.... It was a good learning experience either way. They were part of history, whether good or bad. They passed out candy to people waiting in line, made thank you cards for poll workers and clapped and thanked people for their vote. It was cold and rainy but those girls stood out there with smiles on their faces.
3. MOVING ON! I hosted my first LuLaRoe party. It was good! I walked away with a few pieces and even snagged a pair of black leggings. I've been on a bit of a leggings kick. I've sworn against them for all these years, but I can't deny the comfort level.
4. I got my first pair of high waisted jeans. Game changer! I had a Kohl's gift card so I picked something from there. I went with
Lauren Conrad High Waisted Jeggings in dark wash.
They were on sale when I got them! I think I'm going to order them in black when they go on sale again.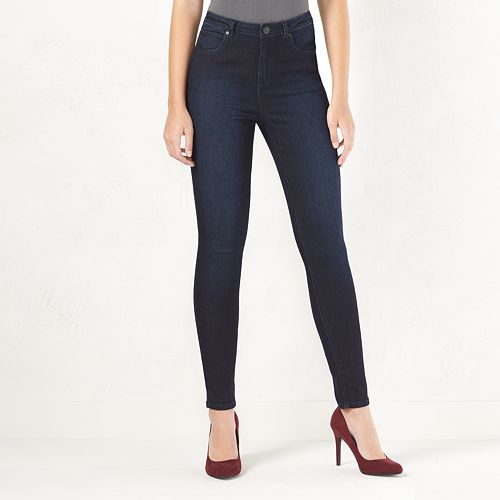 5. I'm itching to get our Christmas stuff out. We normally wait until after Thanksgiving but I just don't want to this year. Honestly, the whole meaning behind Thanksgiving is lost. We're fighting with the Native Americans still to this day. It seems pointless to celebrate a farce. Also, you can still be thankful and have Christmas stuff around.
6. I rescued a kitten on Monday. I noticed this tiny little kitten across the street from our house. It was limping and walking back and forth on the sidewalk. I watched for a while to see if it would leave, or it's mother would come. After about forty minutes I got out our cat carrier and walked over to it. This poor little kitten's eyes were matted shut and it was sneezing. I loved on it a bit and put it in the carrier. I figured I'd take it to a local shelter, no problem. Get it home, give it food and water and put it in our bathroom. I called shelter after shelter and none would take it. I got a hold of an awesome lady who fosters animals and she agreed to take it if I could get the ACA to give it medical attention. They agreed and I dropped it off there. This little baby had an eye infection, upper respiratory infection and a fractured back foot. It's on medication now and is doing better!